OT8 successfully removes "century old" oil contamination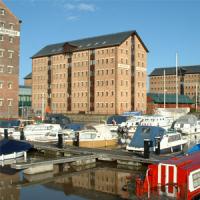 Our biological oil stain remover OT8 has been successfully used to remove "century old" oil contamination from the walls and basement of a listed building in Gloucester Docks, UK.
The Britannia Warehouse within the Gloucester Docks UK built in 1861 has recently been converted to prestigious office accommodation.
During its re-development the contractor Barnwood Construction of Gloucester discovered oil contamination within the basement foundation and extending through the interior brick walls to a height of 2 metres above ground level.
The oil contamination was believed to have been absorbed into the building structure during the working life of the building first as a grain storage facility and latterly as a marine workshop.
Local building services contractor Urban Environmental Services of Gloucester were approached to remove the oil. Peter Jordan of Urban selected OT8 Biological Oil Stain Remover as a result of a web search.
Peter, supported by Oil Technics Product Sales Manager Garth Perkins, applied over a period of 12 weeks some 600 litres of OT8 and successfully degraded in-situ the oil (which had penetrated to a depth of 12 − 15 inches (30−38 cm) into the one hundred year old brickwork.
As a result of Urban Environmental's action, building redevelopment was allowed and the Old Britannia Warehouse's conversion into a modern office complex was successful.
For further information on OT8 please click here and this report contact us.