CEFAS Template renewed for Sobo S Gold 08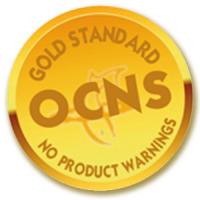 One of the most popular rigwashes used in the North Sea, Sobo S Gold 08, has been recertified by CEFAS to OCNS Gold Standard.
Every three years the hazard assessment of chemical products that are used offshore need to be re-assessed by the Centre for Environment Fisheries & Aquaculture Science (CEFAS), as part of the Offshore Chemical Notification Scheme (OCNS), 
CEFAS applies a Chemical Hazard & Risk Management (CHARM) model to calculate the ratio of 'Predicted Effect Concentration' against 'No Effect Concentration'.  This allows the product to be ranked in the form of a Hazard Quotient.  Part of this assessment includes toxicity, biodegradation and bioaccumulation.  To allow users to very quickly understand the hazard quotient of a product, CEFAS in the UK use a colour branding system, as follows:
| | | |
| --- | --- | --- |
|   | As you will see, Sobo S Gold 08 has been classified by CEFAS as GOLD meaning that it has the lowest possible Hazard Quotient available! |   |
An Internationally approved (OCNS Gold Standard) offshore rigwash and oil degreaser that efficiently removes oil and grease contamination.
Sobo S Gold 08 contains a blend of biodegradable surfactants and wetting agents and is registered for use in offshore installations.
OCNS Gold - no product warnings
Marine and separator friendly
pH below 9
Low to medium foamer
---
 

Other Useful Information
To find out how Sobo S Gold 08 could work for you - contact us today!

For more information on CEFAS, please click

here

.