CEFAS Templates renewed for Sobo S Gold 08 & Sobo QB Gold 08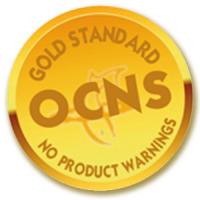 Two of our most popular rigwashes, Sobo S Gold 08 & Sobo QB Gold 08, have been recertified by CEFAS to OCNS Gold Standard.
Every three years the hazard assessment of chemical products that are used offshore need to be re-assessed by the Centre for Environment Fisheries & Aquaculture Science (CEFAS), as part of the Offshore Chemical Notification Scheme (OCNS), 
CEFAS applies a Chemical Hazard & Risk Management (CHARM) model to calculate the ratio of 'Predicted Effect Concentration' against 'No Effect Concentration'.  This allows the product to be ranked in the form of a Hazard Quotient.  Part of this assessment includes toxicity, biodegradation and bioaccumulation.  To allow users to very quickly understand the hazard quotient of a product, CEFAS in the UK use a colour branding system, as follows:
| | | |
| --- | --- | --- |
|   | As you will see, both our products have been classified by CEFAS as GOLD - meaning they have the lowest possible Hazard Quotient available! |   |
An Internationally approved offshore rigwash and oil degreaser that efficiently removes oil and grease contamination.
Sobo S Gold 08 contains a blend of biodegradable surfactants and wetting agents and is registered for use in offshore installations.
OCNS Gold - no product warnings
Marine and separator friendly
pH below 9
Low to medium foamer
An aqueous oil degreaser with rapid quick break properties producing emulsion free rinse water.
Ideal for the removal of oils and greases from oil pollution equipment, hydro powers stations, offshore platforms and for cleaning in similar environmentally sensitive marine areas.
Quick break
OCNS Gold Standard - with no product warnings
Marine friendly
---
 

Other Useful Information
To find out how our products could work for you - contact us today!

For more information on CEFAS, please click

here

.