New Lemsolv Industrial: More Effective & Safer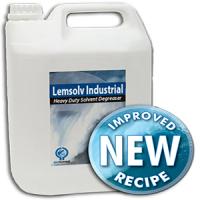 The reason our products are market leading is that we are always improving them!
Our newly reformulated Lemsolv Industrial is now even more effective and even safer for both the environment and user.
More effective
Lemsolv Industrial is a heavy duty solvent degreaser perfect for removing the most tenacious grease, heavy oil, wax, asphaltines and bitumen emulsions.
It is now even better! The new Lemsolv Industrial formulation has a higher solvency value, which means an increased performance and even more effective cleaning properties.
It is now even quicker and easier to penetrate and lift the heaviest contamination.
Even Safer
Here's what we did to make Lemsolv Industrial even safer:
Removed Hazard Profile
We have significantly reduced the required hazard labelling. Lemsolv Industrial is no longer hazardous to the environment, is no longer classified as flammable and is safer for the user's skin.
Removed D-Limonene
Despite being a widely used, naturally occurring solvent obtained from citrus fruits, D-Limonene is a VOC and can pose long term environmental and health concerns. We worked hard to find a replacement and our new formulation of Lemsolv Industrial, now contains no D-Limonene.
Greater Flash Point:
Our new formulation of Lemsolv Industrial has an elevated Flash Point (65°) and is therefore no longer classified as flammable for transport. It is a safe to use and eco-friendly alternative to some of the more hazardous and highly flammable solvent degreasers currently on the market.
Reduced Environmental Impact:
The new Lemsolv Industrial is now biodegradable, non-toxic and with no potential for bioaccumulation.
For further technical information on the differences between Lemsolv Industrial's old formulation and  new formulation, please click here.
If you have any questions regarding our new formulation or any other Oil Technics products, don't hesitate to contact us.