New Sobo Tank Cleaner - making tank cleaning easier, safer & faster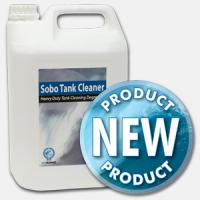 No more struggling with difficult to use toxic cleaning chemicals. Our Sobo Tank Cleaner is breaking the mould for tank cleaners!
Easier
Sobo Tank Cleaner is a powerful solvent degreaser specially designed for easier cleaning of oil storage tanks. It is water rinsable and separator friendly so rinse off is a breeze. It has effective solvency and degreasing in a range of applications and leaves surfaces clean and oil free. 
Safer 
Safer for the Environment
Biodegradable - naturally breaks down in the environment, leaving no soil residue and no hazard to plants - meets requirements of EU Detergents Directive (read more here)
Non-toxic and with no potential for bioaccumulation (see our FAQs section here)
Low aquatic toxicity, VOC free, D-Limonene free (see FAQs section here)
Under the EU classification scheme non dangerous for the Environment.
Safer for user
Not classified as a skin irritant or skin sensitiser
Not classified as flammable
Non toxic chemicals
No transport classification required
Safe to use on most metal surfaces, painted surfaces and tank coatings
Faster
Yes, Sobo Tank Cleaner is safer for the environment and user, but it is still a heavy duty product with a rapid cleaning process. It penetrates and lifts the heaviest of contamination. It is fast-acting for the removal of waxy and residual hydrocarbons.
Further information on Sobo Tank Cleaner can be found here but if you have any questions regarding our new formulation or any other Oil Technics products, don't hesitate to contact us 
 Posted by David Evans, 4th April 2016