OT8: great just got better!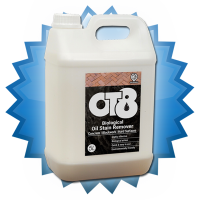 Our bestselling biological oil stain remover OT8 has a new formulation – to make great even better!
Now with a more viscous texture and using a new blend of solvents to break down the oil stain, OT8 uses the same powerful bacteria and enzymes it always has to biologically digest and permanently remove the oil.
---
Why have we made this change?
In 2016, we reformulated OT8 in order to remove D-Limonene, a naturally occurring but environmentally hazardous solvent. This change not only lessened our use of hazardous chemicals as a company but reduced the hazard profile of the product - making OT8 safer for the user and the environment.
Having listened to customer feedback and as part of our commitment to continual product development, we knew there was still room for improvement. Our technical department have been working hard to see what more could be done – and we're very happy with the results!
What's the difference?
The first thing you'll notice is that the new OT8 has a different colour and a thicker consistency. The extra viscosity helps OT8 perform better in two ways:
OT8 now stays on the treated area for longer, with less risk of run off or drying out.
Once shaken, the bacteria – which is suspended in small particles in the liquid – is spread uniformly throughout the OT8 and won't quickly separate and sink to the bottom. This means the bacteria is evenly distributed across the oil stain for maximum efficiency.
We have also used a different solvent in our new formulation. This new solvent has a greatly increased solvency factor (Kauri-butanol value of >1000 kB c/w 70kB for the technical minded!) meaning new OT8 is quicker and more effective at breaking down and emulsifying the oil stain, before the long lasting biological action of the bacteria starts to work.
Seeing is believing!
To ensure our new formulation was as good as we thought from our laboratory testing, we worked with a major customer to trial OT8 in tough real life conditions. The trial was carried out using both the new and old formulations like-for-like on oil contaminated steel plate flooring – you can see the difference for yourself!
New look
As we've improved what goes in the bottle, we thought it only fair to improve what goes on the outside!
We hope you like OT8's new look and agree it now looks more stylish in your warehouse, on your shelf or in your shed.
---
If you have any questions regarding our new formulation or any other Oil Technics products, don't hesitate to contact us. 
Posted by Oil Technics Team, 14th December 2018