Award winning company!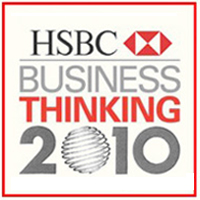 Oil Technics scoops the HSBC Business Thinking 2010 Regional Finals for Scotland & Northern Ireland.
It was announced last week that Aberdeenshire-based Oil Technics Ltd, is one of only two finalists to have won in the Scotland & Northern Ireland region of the HSBC Business Thinking 2010 awards, an initiative set up by HSBC in order to find the UK's most innovative and forward thinking companies.
During the judging process, which included presenting to a panel of judges at HSBC's London headquarters, representatives from the company showcased some the firm's latest product developments and business strategies, focusing on the company's new Antimicrobial Hospital Curtains.
The award will see the firm receive up to £5million in lending, plus a financial award of up to £100,000.
From 53 shortlisted companies, 18 finalists from throughout the UK will be invited to attend a gala event at HSBC headquarters in Hong Kong at the beginning of December, where the overall winner will be announced. As well as being named the overall HSBC Business Thinking 2010 winner, the company that scoops the title will also win an additional award of up to £100,000 prize.
General Manager and owner of Oil Technics, David Evans is delighted to have secured one of the Scottish finalist slots, he said: "We are extremely proud of this achievement, which is even more special as Scotland was the first regions to be for us."
The standard of companies taking part in the final stages of the competition was extremely high and to be named as one of the finalists really is a fantastic honour for us."
"To be involved in the whole process has been an eye opening experience for everyone involved and has given us the opportunity to take a step back and assess where we feel the future lies for Oil Technics."
"The support received from HSBC has been fantastic and has enabled us to tap into an immense range of knowledge and skills which we are aiming to build upon in the future."
"This achievement is testament to the dedicated and forward thinking team we have in place at Oil Technics. Going to the final ceremony in Hong Kong will truly be a fantastic experience no matter what the result as we can be immensely proud to be among 18 of the most promising and innovative companies within the UK."
Oil Technics began the Business Thinking process in June by submitting an extensive application form detailing information about the company, the markets it operates in, its key products and how the business would use the prize money. In September representatives from Oil Technics also attended a HSBC Thought Exchange in Istanbul, Turkey.
To watch a video on HSBC Business Thinking 2010, please click here or for more information about this article please contact us.
Posted by Hannah Evans, 17th January 2011