New OT8: More Effective & Safer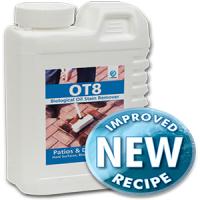 We are known for creating unique products that work like traditional chemicals yet are environmentally friendly. It truly doesn't stop there though! The reason our products are market leading is that we are always improving them.
Our newly reformulated OT8 Biological Oil Stain Remover is now even more effective and even safer for both the environment and user. 
More effective
OT8 rapidly removes and digests oil stains from surfaces such as block work, paving stones, concrete, forecourts, garage floors, driveways and equipment. Trusted by many companies and satisfied customers for over twenty years, OT8 has always been one of the fastest and most effective products on the market.
It is now even better! The new OT8 formulation has a higher solvency value, which means an increased performance and even more effective cleaning properties.
It is now even quicker and easier to remove your oil stain!
Even Safer
OT8 has always given industrial strength results without the level of hazards or toxic side effects of other similar products on the market. But we knew we could do even better.
So here's what we did to make OT8 even safer for both the user and the environment:
Removed D-Limonene
Despite being a widely used, naturally occurring solvent obtained from citrus fruits, D-Limonene is a VOC and can pose long term environmental and health concerns. We worked hard to find a replacement and our new formulation of OT8 now contains no D-Limonene.
Reduced Hazard Profile:
We have significantly reduced the required hazard labelling
Reduced Environmental Impact:
The new OT8 has no measurable flash point and is now biodegradable, non-toxic and with no potential for bioaccumulation.
Discover the Difference! 
For further technical information on the difference between OT8's old formulation and new formulation, please click here.
If you have any questions regarding our new formulation or any other Oil Technics products, don't hesitate to contact us. 
Posted by Oil Technics Team, 29th February 2016